Kit Connor's sexuality was in speculation for long enough. His sexual orientation is quite confusing since he never speaks or labels it. But recently, rumors have swelled online, especially on Twitter, that Kit Connor is bisexual. 
When Connor doesn't reveal his true sexuality, how can his fans be so sure of it? Today we will discuss this matter. Is Kit Connor Gay or Bisexual? We will examine what the Heartstopper's actor has to say about all these rumors. 
Kit Connor's Heartstopper Sparked Rumors About His Sexuality: is He Gay?
Kit Connor is not the only one going through gay rumors but also his costar Joe Locke. It's because they starred in the Heartstopper as gay couples.
The story includes a boy who is bisexual, and Connor plays the character Nicholas. Joe Locke is acting as the gay shy boy whose name is Charlie. 
It shows how the duo becomes friends and eventually understand that they have grown feelings for each other. The viewers found both the stars being close and having intimate moments. They have performed outstandingly, for which the gay rumors fueled even more. 
Their acting skills are so good that a bunch of people started to think of them as gay in real life and spread made-up homosexual stories.
Since then, Connor's die-hard fans have requested him to label his sexuality as soon as possible. However, the actor came Live one day and told the supporters that he doesn't like labeling sexual orientation. 
Here is what he said, "I mean for me I just feel like I'm perfectly you know confident and comfortable in my sexuality but I don't feel the need to really you know… I'm not too big on labels and things like that. I'm not massive about that and I don't feel like I need to label myself, especially not publicly." 
Kit Connor Was Also Assumed as Bisexual
Although the celebrity came on live and explained why he doesn't like labeling his sexual orientation, his followers didn't stop speculations on his sexual orientation. It seemed that Live created another rumor which is Kit could be bisexual and hiding it.
He later decided to post from his account in order to speak about the matter. So the star posted on Twitter how it feels funny that people know more about his sexuality than himself. He wrote, "Twitter is so funny man. apparently some people on here know my sexuality better than I do…."
It's great that he actually spoke about things that were bothering him. The SS-GB actor could have clarified things, but his playful talks were enough to make us better understand his sexual orientation.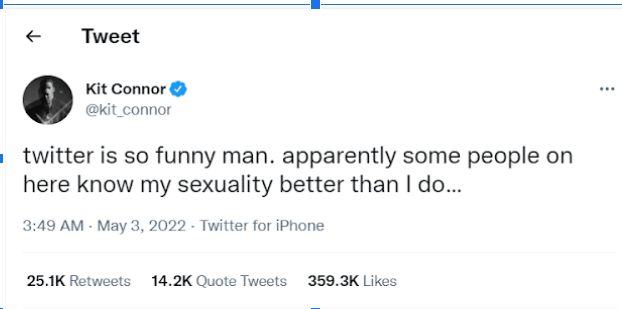 We can say Kit Connor's sexuality is straight. Although he keeps his private life too private, no one knows whether he is dating anyone. But his statements indirectly tell us he thinks himself straight and is confident about it. 
Final Words
When Kit said he is confident about his sexuality, he indirectly meant that his gender orientation is straight, and knows it. It's not a fact whether people identify the actor differently. Connor thinks labeling sexuality is not something important.
FAQs 
Are Nick Nelson and Charlie dating in real life? 
Nick Nelson and Charlie are the characters of a Netflix series titled Heartstopper. The series features a story of a gay and bisexual student.
They date each other. But they are only characters and don't exist in real life. The actors who play the roles are real-life good friends, but they are not dating. 
Did Nick and Charlie break up? 
Charlie breaks up with Nick because he thinks he is making his beloved Nick's life problematic. Although he was in love with him, for Nick's happiness, he split with him.