One Direction singer Harry Styles isn't the only one in the band who was misunderstood as gay. Louis Tomlinson had to face the same thing.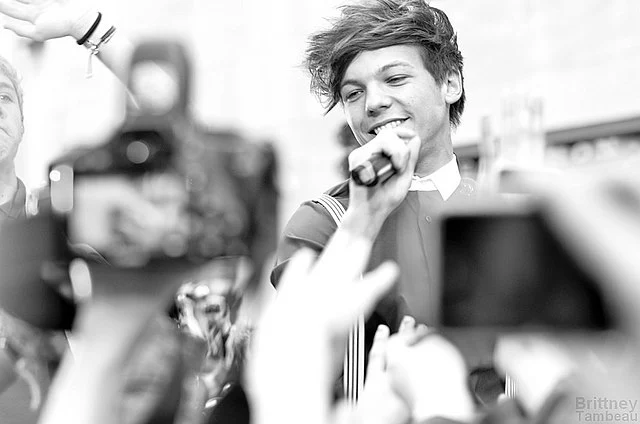 After wearing a rainbow apple t-shirt, rumors spread fast like a bullet train when the fake news of him being gay was published. But he managed to stop the stories immediately back then.
Recently, some websites have also been using Louis Tomlinson's name and trying to prove him gay. Is there anything that Louis ever said to prove himself straight? Here's everything.
Is "I'm Really Gay' Louis Tomlinson's Song?
The internet is filled with false news. Many websites try to ruin various celebrities' repetition by making false stories about them. Such websites even bring some stuff to use as proof that is not real but fake. However, they succeed in making fools out of the public.
There's a website called ST Lyrics, and this site claims that "I'm really gay" is a song by Louis Tomlinson. But you'll be surprised to know that there's no such song in reality that Louis sang.
If you touch on the 'music' icon of that song on that site, it will always take you to another website where they sell tickets for various shows.
The truth is ST Lyrics has nothing to do with singer Louis Tomlinson, but they are using his name to get some sales of their tickets.
Louis Tomlinson Isn't Gay
The superstar of 'One Direction' isn't gay. He is straight and clarified this long ago. It's not the first time that tabloids and websites tried to portray the 'Night Changes' singer as gay. A news reporter shared this fake news years ago. It made Tomlinson's fans go crazy.
Although this was pretty sad that it put Louis in frustration, one good thing also happened. Louis Tomlinson told the media and his fans that he was straight through his Twitter.
Louis mentioned that particular news reporter and said, "@JennSelby The fact that you work for such a 'credible' paper and you would talk such rubbish is laughable. I am, in fact, straight."
@JennSelby The fact that you work for such a 'credible' paper and you would talk such rubbish is laughable. I am in fact straight.

— Louis Tomlinson (@Louis_Tomlinson) November 10, 2014
So there should no longer be confusion about Louis Tomlinson's sexual label. The singer admitted to being straight, and his relationship status supports this. He only picked prominent ladies to date. The 'Story of My Life' singer supports LGBTQ but is not one of them.
Final Words
Louis Tomlinson had to face many issues for fake stories that some news publishers published to get some attention. He was presented as gay several times by some tabloids.
Others tried to portray him as gay in indirect ways. But hey! You don't have to trust in any of that since Louis Tomlinson already said he is straight.