IShowSpeed tried to become a YouTuber for a long time. But he became lucky after the COVID-19 pandemic hit the world. At that time, people started to play games, so the game streamer got viral with his humorous and unique style of playing games.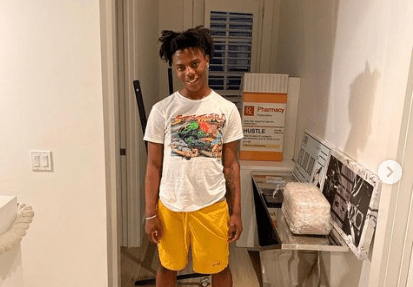 Now that famous gamer is also known as a young rapper who surprised the world with a "World Cup" song for 2022. Since he is now a global star, the question comes, "is IShowSpeed gay." In this article, you will know his sexuality and see a confusing video where he calls himself homosexual. 
IShowSpeed Came Out on a Live Stream 
If you have watched IShowSpeed's streams for a long time, you already know that he says some crazy stuff whenever he gets excited. This put him in huge trouble. In a Live stream in 2021, IShowSpeed was excited and said he would come out. 
That made things challenging for the "World Cup" singer. His fans immediately began to congratulate him. That's when IShowSpeed realized that his fans took that seriously. He said he's gay in a funny way, but the audience thought he came out of the closet. 
A part of the Live Stream was shared by one of his fans, 'Goat Stokes' on Twitter. He uploaded the record and captioned it, "Ishowspeed is gay. #ishowspeed #speed."
Ishowspeed is gay. #ishowspeed #speed pic.twitter.com/eiNHvtPOrz

— Goat Stokes (@kloppoutlfc) July 11, 2022
But we die-hard fans know well that Darren Watkins is not gay. Did he address the gay rumors? Yes, he did. Let's discover what he said about his sexuality. 
IShowSpeed Made A Video Where He Admitted being a Straight Guy 
Darren got disappointed after realizing his fans thought him gay. He knows this rumor can affect his personal life, so the young streamer couldn't help but record a video. He said there that he is straight and didn't seriously mean what he said in that stream. 
IShowSpeed said, "all right, Chad, man, I apologize for what happened in the last stream, man. Yeah, I probably like wondering what happened like yo, speed like what's going on? Yeah, I'm sorry, y'all, but the truth is I'm really not. 

When I get angry, I probably say some very intriguing things, man, but the truth is I'm not, man. I'm straight; I'm a heterosexual man; I apologize for what I said back there is not true. I really do apologize." He then quickly called a close friend of his and also requested him to admit IShowSpeed as heterosexual. 
At the end of the video, Darren once again said he was straight. He was embarrassed and ashamed of calling himself gay because it created confusion regarding his sexuality. Hence, IShowSpeed made it clear that he is not homosexual but heterosexual. 
Final Words
IShowSpeed is gaining more and more followers worldwide because he is no longer a gamer but also a well-known rapper. 
After the official FIFA World Cup 2022 song was released, everyone was so upset with it. But thanks to IShowSpeed, he made an excellent World Cup song that finally brought the vibes of football. 
In 2021 a rumor spread IShowSpeed is homosexual. The streamer called himself gay for fun, but his supporters actually thought he came out. 
When things got problematic, he opened his phone's camera and recorded a video of himself saying he was not homosexual but heterosexual.