Clairo became a celebrity in 2017, and it was pretty sudden. The singer wrote the song 'Pretty Girl' and sang it in her bedroom. She captured herself singing the song and later uploaded it on her YouTube channel.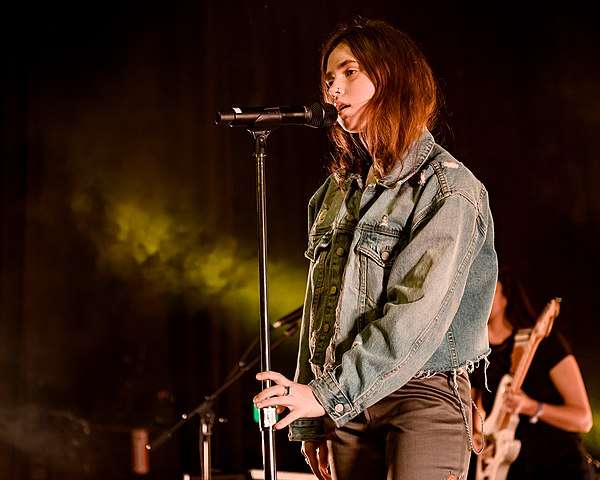 The Pretty Girl song went viral unexpectedly. It soon gained her popularity and millions of views. Later she self-produced more hits like '4EVER' and 'Flaming Hot Cheetos.' Many followers of her still don't know her authentic sexuality. 
If you are one of them, we will tell you, if Clairo is gay, straight, or bisexual. And Is she too young to understand her Sexual orientation? Let's jump onto the facts related to her sexuality.
Clairo is Bisexual
Clairo is bisexual. She came out as bisexual on 29th May 2018 [Source: Wikipedia]. For the first time, she shared the truth about her sexuality through a Twitter post, where she wrote, "B.O.M.D. is also G.O.M.D. for ur information." Here, B.O.M.D. It means boy of my dreams, so G.O.M.D. means girl of my dreams. 
B.O.M.D. is also G.O.M.D.
for
ur
information

— claire cottrill (@clairo) May 29, 2018
This post cleared things pretty much. Claire's Twitter followers understood she has feelings for girls too. Later, she told the media as well that she likes girls. 
She was interviewed by Out magazine in 2019's April and told the host, "I am still not really sure what my sexuality is, but I do know that it's not straight, I am having my gay sob right now, where I am just letting all my emotions out and finally crying from that experience when I was twelve years old, 'Why are girls so hot?". 
The Pride magazine also invited her, where she stated, "A lot of my new songs are directed towards women, and are obviously about women." Whoever has known Clairo since 2017 already knows she is not only sexually interested in boys but also girls. 
Although Clairo was hesitant to share the news with her fans at the beginning, she slowly managed the courage and shared her sexual orientation.
Some may still ask, is Clairo gay or bisexual? Because we know it's hard to believe since she is pretty young to think of herself as bisexual. 
But according to Clairo, she used to think girls were fantastic from 12, and for 8 long years, she kept thinking the same. Even after becoming an adult, she couldn't help but like girls.
Now she is too young and still doesn't consider herself straight. However, she might change her sexual interests in the future; who knows? But for now, Clairo's sexuality is bisexual. 
Conclusion
Clairo is a talented, pretty, and young singer. She presented many of her supporters' many hits. When the singer was about to reach her peak of success, she knew it was the right time to share her true identity, so she declared herself bisexual.
FAQs 
Who is Claire Cottrill dating? 
Claire, popular as Clairo, has shared her sexual orientation. She came out as bisexual in 2018. However, the singer is single. Clairo was never spotted in romantic situations with anyone. She was single then and is still single now. 
Is Clairo still making music? 
Clairo has quit music. She has gained enough popularity through her singles and is happy with her success now. In 2021 after releasing her last album, Sling, she wanted to spend more time for herself to know herself better.