Jaden Smith is the son of Will and Jada Pinkett Smith, and the brother of Willow Smith. But this is not why he is popular. He became a famous personality through his rap songs.
He was first spotted with his father, Will Smith, in the movie "Pursuit of Happiness" in 2006. This excellent father and son duo again collaborated in the film "After Earth" in 2013.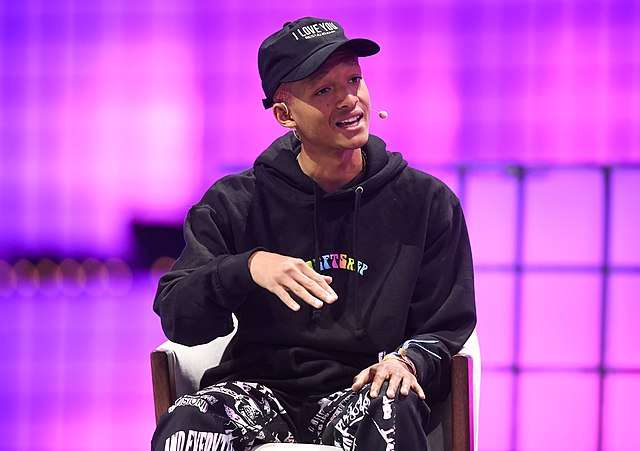 Although he is an amazing actor, he seemed to be in love with singing more, so he put additional effort into his career in music.
Like most other celebrities, Jaden didn't reveal his sexuality by himself. However, today we will discuss on is Jaden Smith gay or trans? What's Jaden Smith's sexuality? and find out his sexual orientation. So let's get started. 
Jaden Smith Gay Rumors
Once, Tyler The Creator was considered Jaden Smith's boyfriend because, in 2015, Jaden fans read a tweet of him regarding his feelings for Tyler. He tweeted, "@fucktyler I think I'm In Love With You, I Don't Know I'm Still Figuring It Out, But In The Meantime, Happy Birthday." [Source; Tweeter]
This wasn't the only time Jaden expressed his feelings for Tyler. He again, in 2018, told the public how much he liked him at Camp Flog Gnaw. He also mentioned the fact that they are dating.
He said to the crowd, "I just want to say, Tyler, is the best friend in the world and I love him so f*c*ing much. Tyler doesn't want to say, but Tyler is my m*the*f*c*ing boyfriend, and he has been my m*the*f*c*ing boyfriend my whole f*c*ing life. Tayler, is my f*c*ing boyfriend. It's true." [Source: Youtube]
Tyler didn't directly deny the fact. When Jaden again tweeted, "Yup @tylerthecreator, I told everyone you can't deny it now," Tyler responded, tweeting, "@jaden hahaha you a crazy ni*ga man."
Tyler has been ignoring whatever Jaden was saying about their relationship. But that didn't stop people from questioning Jaden's sexuality. Because he even added gayish lyrics to his song I Ain't Got Time, where he mentioned: "He has been kissing white boys since 2014." 
However, this young star has also been in many relationships with females. When Tyler was asked about the sexual orientation of Jaden Smith, he said, "There are some things that are just unexplainable." [Source: Fantastic Man] 
The answer to Is Jaden Smith gay or is Jaden Smith transgender lies in the next para.
Jaden Smith's Relationships with Women
Because of her silent nature, Jaden is rumored to have many unconfirmed dates. Some reports claim that in 2013 Kylie Jenner and Jaden Smith were in a relationship.
Jaden did have a relationship with Sarah Synder, a model, and it was widespread. Their relationship lasted for two years. Some say Sarah went into a secret relationship with Gunner Stahl, a Photographer, so they broke up.
Understandably, he is not gay, but he might be bisexual since he admitted to having relationships with Tyler for a long and then had a strong relationship with Sarah Synder. And, of course, he is not a transgender person.
Conclusion
Jaden Smith was rumored to be gay. He does not have an interest in men only but also in women. It seems he is bisexual. However, neither Jaden nor his father, Will Smith, publicly said anything about his sexuality.